Got hardly any work today so am on here...:S
Had a lovely day out yesterday with my pals Geneviève and

meathiel
. It was all good apart from my taking the wrong train on the way home, arg! The electronic sign at the platform SAID it was my train but...after I got on it started definitely going the wrong way...I finally got off at Mannheim because I figured I could get another train back to Darmstadt from there...and managed that. The Deutsche Bahn info man gave me a whole other route I could get back to Urberach but in the end I got Dirk to pick me up at Darmstadt. I would have had pretty long waits at Darmstadt and Dieburg for the connecting trains and Darmstadt isn't so far for him to come. It was ok on the way down to Heidelberg though!!!
So...managed to find Geneviève and her friend Sylvie without any problems despite the fountain

meathiel
had told us to meet at not being too obvious as it was under repair! The language thing turned out to be interesting - I spoke French to Genni and Sylvie when

meathiel
wasn't around and then it was a mixture of English and German after that...;) Anyway nice to meet them and we had lunch at a cafe where there were at least some veggie options - it wasn't that bad

meathiel
!! ;) There were sparrows there coming very close to use and drinking and bathing in a small fountain next to our table so that was really cute too. :D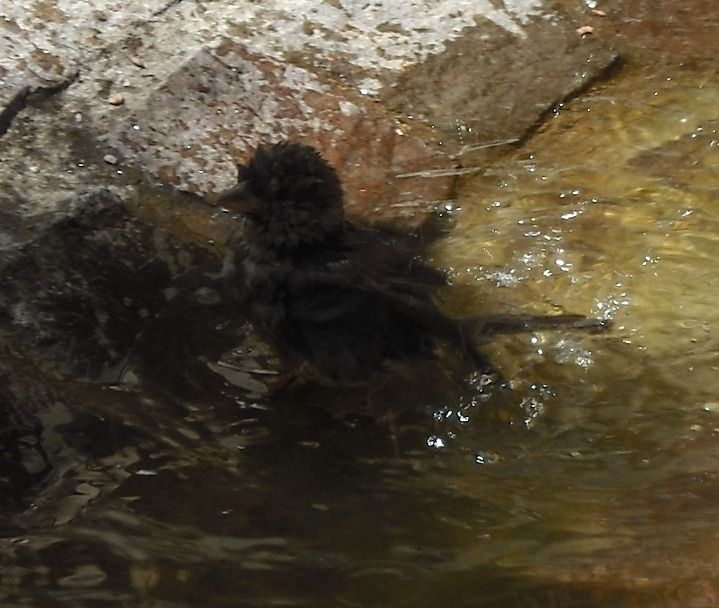 Ok not the greatest photo ;)
We ended up going up to the castle as the boat cruises in the city only run once a day and it was a bit late for me to get my train - took the funicular train up and down as it's a bit far and steep to walk up there, ha ha...had a nice walk around up there and then it was time for me to be going and

meathiel
gave me a lift back to the station. I got this semi local speciality 'Schneebällchen' and got one for Dirk as well but then we were a little disappointed by them as we thought they would have a soft centre but they were just crunchy...oh well ;)
Got some photos, well some of you have already seen similar anyway I know...
( photos )
It was a lovely day weather wise too and it's nice today as well but I am home today working...oh well!