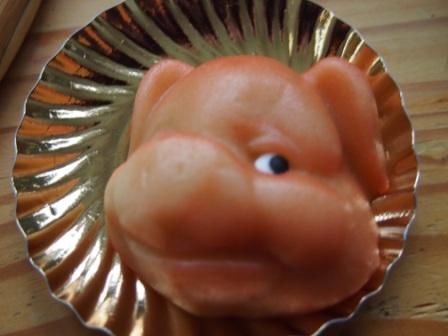 We went to the
Süsse Löwer
in Seligenstadt yesterday as they had not charged us for something last time and we wanted to pay for that this time - they have the greatest hot chocolate!!! - anyway, they gave us these pigs for free. Dirk has already eaten his! I guess they are marzipan.
I decided to try making
humbug
flavoured tea hee hee by adding mint to caramel flavoured black tea. Well, it was quite good ;) I do like adding mint to other teas, as I have mentioned to someone else on here before. ;)
Now, Dirk's apparently famous chocolate pudding is cooling on my table! He has not made it for me before but I found out about it so he had to make it today, ha ha. And the Royal Mail have just come out with
stamps
to celebrate BBC's children shows, so I had to try to get some of those, since some of them are ones from MY childhood! My cousin is going to try to buy me the first day cover in her local post office tomorrow. Otherwise I will try to order them again. Bagpuss stamps!!! Trust them to come out with it after I moved!!!